We know that Christmas and St Nicolaas 2015 is still a long way away, but all Christmas 2015 stock is made to order. It is therefore imperative that we have Christmas indent orders placed with us by 5th June 2015.
The November and December months are characterized by strong seasonal demand leading up towards Christmas.
This year, we have selected a range of seasonal products based on the results of previous years sales.
We recommend, to avoid disappointment and missed sales, to look through our Christmas 2015 catalogue and place your indent orders by 5th June 2015.
We will endeavour to hold the 2015 pricing for the Christmas and Seasonal period.
We hope that most products will be available from October 27th (after Labour Weekend).
All pricing excludes GST.
These are indent orders and NO returns will be accepted.

Christmas & St Nicolaas 2015
CHRISTMAS STOLLEN, ASSORTED BISCUITS AND FLANS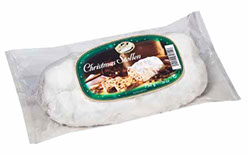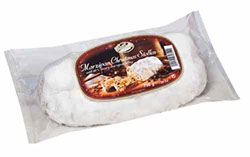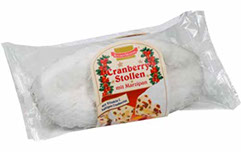 LE GOURMET MARZIPAN STOLLEN 750g
Product Code: 20616
Barcode: 4101540707124
Shipper Quantity: 6
LE GOURMET CHRISTMAS STOLLEN 750g
LE GOURMET CRANBERRY STOLLEN 500g
Product Code:
Barcode: 4101540707117
Shipper Quantity: 6
Product Code: 20624
Barcode: 897579001015
Shipper Quantity: 8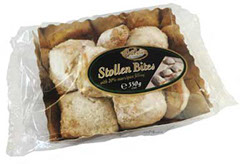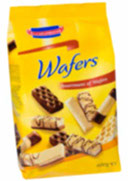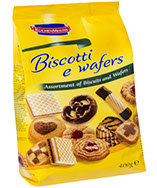 LE GOURMET 20% MARZIPAN STOLLEN BITES 350g
KUCHEN MEISTER ASSORTED WAFERS 400g
KUCHEN MEISTER BISCUITS & WAFERS 400g
Product Code: 20628
Barcode: 4101540717031
Shipper Quantity: 13
Product Code: 10180
Barcode: 4002652009536
Shipper Quantity: 10
Product Code: 10181
Barcode: 4002652009550
Shipper Quantity: 10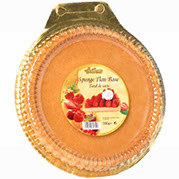 LE GOURMET SPONGE FLAN SINGLE LAYER 200g
Product Code: 20621
Barcode: 4101540708947
Shipper Quantity: 12
ALMOND PASTRY MADE WITH REAL ALMONDS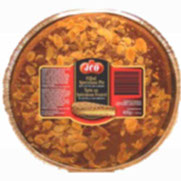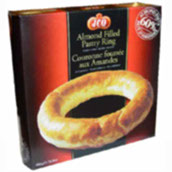 JCQ ALMOND FILLED PASTERY RING 480g
Product Code: 20620
Barcode: 8713958045741
Shipper Quantity: 12
JCQ ALMOND FILLED PASTERY STICK 250g
JCQ ALMOND FILLED SPECULAAS PIE 400g
Product Code: 20619
Barcode: 8713958045635
Shipper Quantity: 16
Product Code: 20629
Barcode: 40000000000000
Shipper Quantity: 10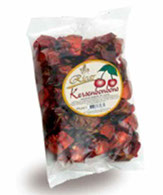 RICAR CHERRY LIQUEUR PRALINES 250g
Product Code: 20580
Barcode: 8713031762831
Shipper Quantity: 12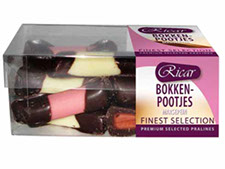 RICAR MARZIPAN BOKKENPOOTJES 200g
Product Code: 20585
Barcode: 8713031772632
Shipper Quantity: 12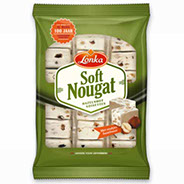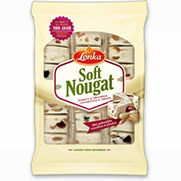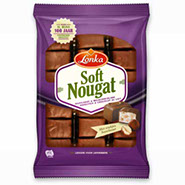 LONKA SOFT PEANUTS & FRUIT NOUGAT 210g
Product Code: 20500
Barcode: 8718046004310
Shipper Quantity: 12
LONKA SOFT HAZELNUT NOUGAT 180g
LONKA SOFT NOUGAT HAZELNUT & MILK CHOC 200g
Product Code: 20499
Barcode: 8718046004396
Shipper Quantity: 12
Product Code: 20501
Barcode: 8718046004334
Shipper Quantity: 12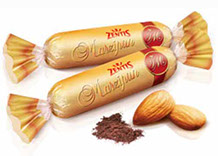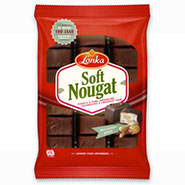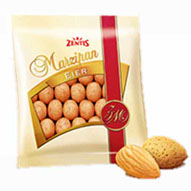 ZENTIS MARZIPAN LOAVES 100g
Product Code: 20301
Barcode: 4002575016253
Shipper Quantity: 40
LONKA SOFT NOUGAT HAZELNUT & DARK CHOC 200g
ZENTIS MARZIPAN POTATOES 100g
Product Code: 20502
Barcode: 8718046004358
Shipper Quantity: 12
Product Code: 20302
Barcode: 4002575016994
Shipper Quantity: 36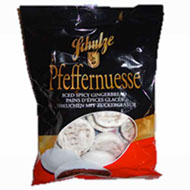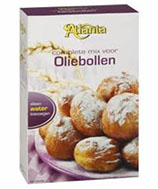 ATLANTA OLIEBOLLEN (OIL-DUMPLINGS) MIX 500g
Product Code: 50323
Barcode: 534059208
Shipper Quantity: 8
SCHULZE PFEFFERNUESSE GINGERBREAD 200g
ODENSE MARZIPAN / ALMOND PASTE 200g
Product Code: 20336
Barcode: 58713958045642
Shipper Quantity: 16
Product Code: 50362
Barcode: 5709521025879
Shipper Quantity: 12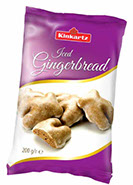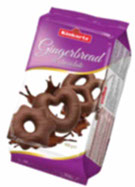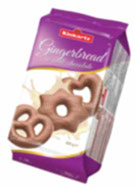 KINKARTZ GINGERBREAD IN DARK CHOCOLATE 400g
Product Code: 20334
Barcode: 5900658392906
Shipper Quantity: 12
KINKARTZ GINGERBREAD IN MILK CHOCOLATE 400g
Product Code: 20335
Barcode: 5900658421101
Shipper Quantity: 12
KINKARTZ GLAZED GINGERBREAD BEARS 200g
Product Code: 20333
Barcode: 5900658176001
Shipper Quantity: 24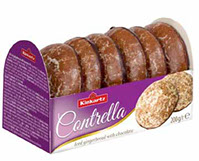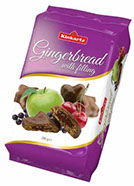 KINKARTZ GINGERBREAD CONTRELLA 200g
Product Code: 20338
Barcode: 0000000000000
Shipper Quantity: 36
KINKARTZ GINGERBREAD WITH FRUITFILL 200g
Product Code: 20337
Barcode: 000000000000
Shipper Quantity: 16
SEASONAL SPECIALITIES FROM LONKA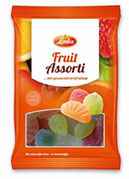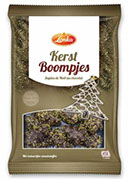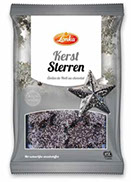 LONKA CHRISTMAS TREES 200g
Product Code: 20505
Barcode: 8710224018598
Shipper Quantity: 24
LONKA CHRISTMAS STARS 200g
Product Code: 20506
Barcode: 8710224018515
Shipper Quantity: 24
LONKA ASSORTED FRUIT JELLIES 200g
Product Code: 20503
Barcode: 0000000000000
Shipper Quantity: 24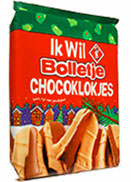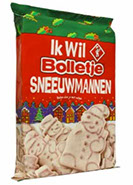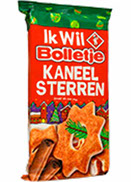 Product Code: 20340
Barcode: 871048200369
Shipper Quantity: 16
BOLLETJE CINNAMON STARS 175g
Product Code: 20341
Barcode: 8710482580045
Shipper Quantity: 12
BOLLETJE CHOCOLATE BELLS 150g
Product Code: 20339
Barcode: 8710482601047
Shipper Quantity: 16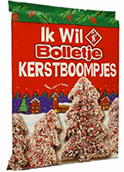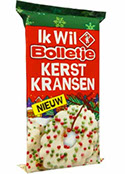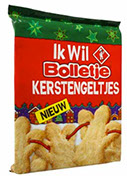 BOLLETJE CHRISTMAS WREATHS 200g
Product Code: 20343
Barcode: 8710482530545
Shipper Quantity: 12
BOLLETJE CHRISTMAS TREES 150g
BOLLETJE CHRISTMAS ANGLES 150g
Product Code: 20342
Barcode: 8710482002769
Shipper Quantity: 16
Product Code: 20344
Barcode: 0000000000000
Shipper Quantity: 16
BOLLETJE ST NICOLAAS DECEMBER 5th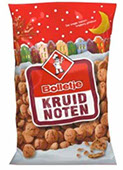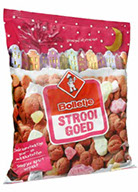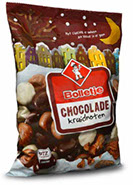 BOLLETJE CHOCOLATE KRUIDNOTEN MIXED 250g
Product Code: 20348
Barcode: 8710482600026
Shipper Quantity: 24
Product Code: 20346
Barcode: 8710482530699
Shipper Quantity: 12
Product Code: 20349
Barcode: 8710482002127
Shipper Quantity: 24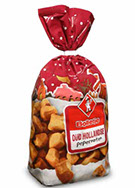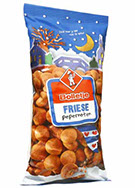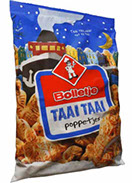 BOLLETJE OUD HOLLANDSE PEPERNOTEN 450g
Product Code: 20350
Barcode: 8710482531214
Shipper Quantity: 12
Product Code: 20354
Barcode: 8710482531429
Shipper Quantity: 12
BOLLETJE FRIESE PEPERNOTEN 200g
Product Code: 20352
Barcode: 8710482601016
Shipper Quantity: 16
VAN DELFT ST NICOLAAS DECEMBER 5th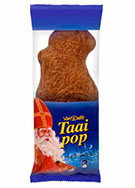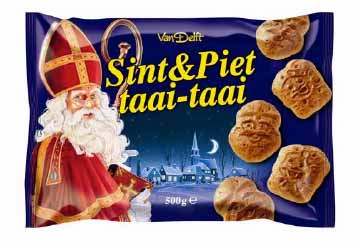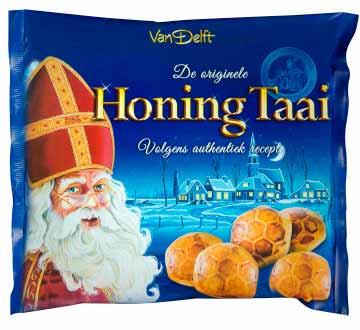 VAN DELFT MINI TAAI BISCUITS (SINT & PIET) 500g
Product Code: 20315
Barcode: 8711513344247
Shipper Quantity: 16
VAN DELFT TAAI BISCUIT DOLL 180g
VAN DELFT HONING (HONEY) TAAI 300g
Product Code: 20313
Barcode: 8711513034186
Shipper Quantity: 38
Product Code: 20316
Barcode: 0000000000000
Shipper Quantity: 18
DE MOLEN'S BANKET ST NICOLAAS DECEMBER 5th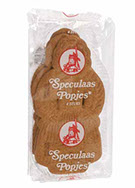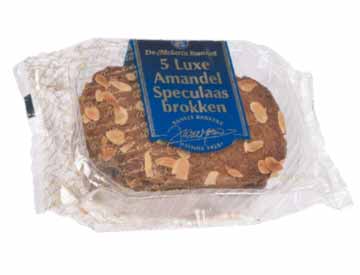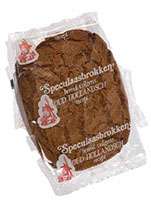 DE MOLEN'S BANKET SPECULAAS DOLLS 200g
DE MOLEN'S BANKET ALMOND SPECLAAS 250g
DE MOLEN'S BANKET SPECULAAS BROKKEN 270g
Product Code: 20360
Barcode: 8710654000135
Shipper Quantity: 16
Product Code: 20361
Barcode: 0000000000000
Shipper Quantity: 14
Product Code: 20362
Barcode: 8710654000111
Shipper Quantity: 14
Contact:
JOHN JACOBSON LTD
107 Hutt Park Road, Gracefield,
Lower Hutt, WELLINGTON
NEW ZEALAND
ph 04 569 5248
mob 21 326 626